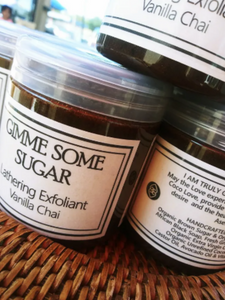 GIMME SUGA Black Soap Body Scrub  
Lathering Exfoliate Is another divine alternative to the traditional African Black Soap Bar, created to provide both thorough cleansing and gentle exfoliation while nourishing the skin. It's great for body and hair!
This blend includes:
Raw African Black Soap
Natural Spring Water
Coconut Sugar
Brown Sugar
Fresh Ground Cinnamon
Dried Peppermint Leaves
Scented with Premium Fragrance Oils to provide you with a warm and sweet aroma.