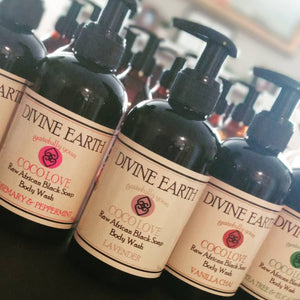 DIVINE EARTH Liquid Black Soap Is a divine alternative to the traditional African Black Soap Bar, created to provide convenience in your daily self care routine. Available in 5 DIVINE fragrances. 
It's great for body and hair!

This blend includes:
Raw African Black Soap 
Natural Spring Water
Scented with Premium Fragrance and Essential Oils to provide you with a fresh,  clean and therapeutic aroma.