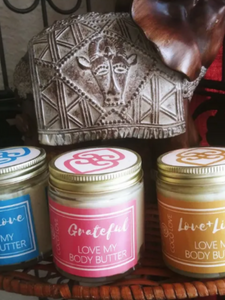 LOVE MY BODY BUTTERS 
Our handcrafted blends of Shea and Cocoa Butters created to provide the natural nourishment your skin deserves, and the Glowrious shine your soul desire!
This blend includes:
Raw Shea Butter
Raw Cocoa Butter
Shea Nut Oil
Organic Extra Virgin Olive Oil
Organic Coconut Oil
Sweet Almond Oil
Avocado Oil
Castor Oil
Vitamin E Oil
Available in 9 absolutely amazing fragrances.
Freedem:  An unscented blend of naturally nourishing shea and cocoa butters

KingDem:  A bold blend of Patchouli, Bergamot, Grapefruit and Sandalwood Essential Oils for a more masculine vibe

Lavender:  A fresh floral scent, known for a wide range of healing benefits to include anxiety

Lemongrass:  A powerful citrus scent known to help relieve stress, depression and anxiety
Grateful:  A  refreshing blend of Aloe and Bamboo representing nature's garden
Cali Love:  A tantalizing blend of ocean breezes and tropical fruit
Love + Light:  A sweet and stimulating blend of Amber  and Bergamot oils, offering peace and serenity
Oh My Goddess:  An enticing floral blend of Gardenia and Jasmine oils, aromas of the Divine Feminine
And Breathe: A refreshing and theraputic blend of Rosemary, Peppermint and Eucalyptus encouraging us to just breathe.