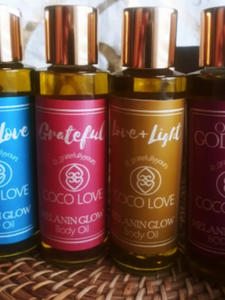 GLOWRIOUS SOUL BODY OIL
Is an intentional blend of Naturally Nourishing Oils designed to enhance the rich glow of melanated skin. This blend includes:
Organic Extra Virgin Olive Oil
Organic Coconut Oil
Sweet Almond Oil
Avocado Oil
Castor Oil
Vitamin E Oil
Available in 8 absolutely amazing fragrances.
KingDem:  A bold blend of Patchouli, Bergamot, Grapefruit and Sanlewood Essential Oils for a more masculine vibe

Lavender:  A fresh floral scent known for a wide range of healing benefits to include anxiety

Lemongrass:  A powerful citrus scent known to help relieve stress, depression and anxiety

Grateful:  A  refreshing blend of Aloe and Bamboo representing nature's garden

Cali Love:  A tantalizing blend of ocean breezes and tropical fruit

Love + Light:  A sweet and stimulating blend of Amber  and Bergamot oils, offering peace and serenity

Oh My Goddess:  An enticing floral blend of Gardenia and Jasmine oils, aromas of the Divine Feminine

And Breathe: A refreshing and theraputic blend of Rosemary, Peppermint and Eucalyptus encouraging us to just breathe.